When I teach any form of marketing, I always tell my audience, "Your ultimate marketing goal is to drive customers and potential customers to your website." If you can get them there, they can learn more about your products and services as well as all the helpful resources you provide. I believe that there are a number of factors, or 13 best practices you can use, to drive customers and clients to your website.
"Your ultimate marketing goal is to drive customers and potential customers to your website."
First, you need a solid website. If you haven't updated or changed your website in the past few years, you may want to consider some changes. The biggest change is having a website that is mobile responsive. Google is looking to see if your website converts easily for a mobile device because today's web search (Google, Bing, Yahoo, Ask…) is based on mobile search results. If your website is lagging on a mobile device, it's lagging in a search.
It is still, all about the user experience. If they can't find what they are looking for, in a quick and timely manner, they will be gone and searching elsewhere. A term that we use frequently is micro moment. It's that moment when you want to go somewhere, do something, know something or make a purchase. During that search, if the user finds what they are looking for, they will leave their brand loyalty and make that spontaneous leap to a new vendor.
Below are 13 best practices that can help potential customers and clients reach your website. They can be used individually or in combination with each other to achieve a better result. I call it the Marketing Wheel. When used in combination with each other, it gives people multiple ways to reach your website.
Personal Brand – A strong personal brand can give your business a boast as customers will see you as an expert and a resource. People who know, like and trust you will do the same for your business brand. Think Linkedin. It is your professional portfolio that not only allows people to learn about your work experience but also has great SEO, meaning people searching for you can easily find you online, within the network.
Blogging – Let's call it storytelling. Telling stories and providing resourceful information that can help solve your customers problems makes you a hero. Blogs allow visitors to access your website through the articles you create. This means you can track the articles that resonate most with your target audience and give them more of what they enjoy.
Social Networks – It's important to be present on the social networks where your customers and fans are having conversation. You want to be there to listen and provide answers to their questions, concerns and pain points. You don't have to be on all networks, be where your customers are : Facebook, Instagram, Linkedin, Twitter, Pinterest, YouTube, Snapchat and TikTok are some of the popular networks today.
Mobile – People will access quite a bit of information about you and your business through their smartphone. You want your website to be responsive and quick loading with ease to find general contact information, products and services as well as social networks. If you have time, run your website through your mobile device and see how fast it loads as well as usability.
Email Newsletters – Don't forget to capture e-mail address and ask people if they would like to receive updates through your e-mail newsletter. At the end of the day, we can many followers on our social networks, but if they went away tomorrow, would you be able to contact any of them? Email addresses are one of the most important pieces of information you should be capturing. Those who want to hear from you, can become your loyalist fans and advocates. If you give them resourceful and shareable information they will spread the word. Two of the most effect email newsletter systems are Constant Contact and Mailchimp.
Directories – Make sure your business is listed in online directories and social networks. These directories include Google, Bing, Yahoo, Yelp, Trip Advisor, industry directories and more. See information below for registering through Google for Google My Business.
Reviews – As much as testimonials look great on your website, they can't match third party reviews. If your customers love your products or services, the best thing you can do is lead them to Facebook, Google, Tripadvisor or Yelp and have them give you a star-studded review or recommendation.
Digital Advertising – Pay to play, that's the name of the game. Social networks are not sharing your information with all your connections and followers. Presently, Facebook only shows 1-5% of your business page audience your posts. If you want your message to reach your followers, you need to pay to have these networks spread the word. Think about creating a budget for online advertising, many of them are affordable.
Groups and Organizations – It's important to get out from behind your desk (and computer) and meet people. At least once a month, you should be engaging with other business people in network situations. COVID-19 has pushed us into the world of ZOOM and we have the ability to network differently. Whether you belong to a networking group or attend organizational functions, putting a name with a face gives you opportunities to learn more about companies that could be complimentary advocates. Remember, networking can also mean grabbing a cup of coffee with one person and giving them your undivided attention for an hour.
Traditional Marketing – Traditional marketing is not dead. Radio, TV, and print advertisement is another way to engage your audience. Branding through traditional marketing means you can give people information to visit your website as well as join your social networks.
Google SERP (Search Engine Results Page) – Understanding how people search for your products and service will also give you some idea of where you come up in a search. If you were looking for your product or service, what keywords would you type into a search bar? Do you come up with those keywords? Does your competition show up? These types of searches will give you an opportunity to create content with keywords to make sure you are being found. Search yourself on your laptop, mobile device and tablet…the results could be different on each device.
Google My Business – Having your business show up in the side panel of a search as well as in the map section is a reason to register you business on Google. How do you know if you have a Google My Business account? Just Google the name of your business, not the url or domain, but the actual name. The information should show up as the first search along with the information in a side panel. If you need to
Video, Video, Video – Video is one of the most important components you can add to your website or social networks. 72% of what we consume, in content, is in a video format. LIVE platforms within social networks, Instagram Reels, Facebook Watch, Snapchat, Stories and the up and coming TikTok all use components of or actual video footage. Whether professional or through your smartphone, videos get traction in digital marketing.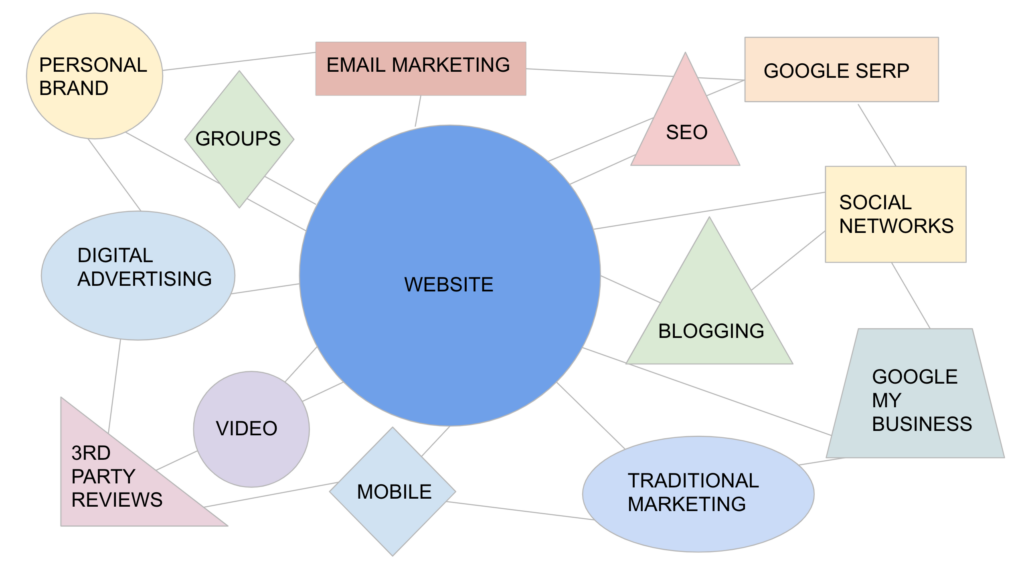 Think of using these 13 best practices in combination with each other for best results. When you are consistent at using them, it helps define your brand, engage with your audience and keep you top of mind.